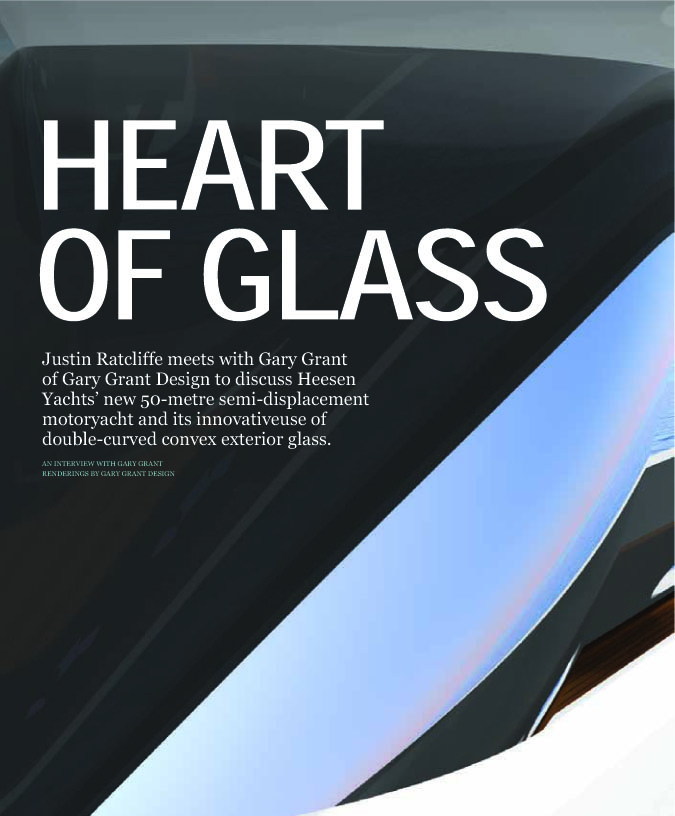 Glass inovations
Innovative solutions for glass in Superyachts

Glass has been reborn as new uncompromising elements allowing the designer and client to achieve their vision from concept to completion. Available forming and adhesive technology now permit the desirable integration of opaque structure and transparent glass seamlessly. Leading the way in this application is the yacht construction industry.

Gary Grant integrated glass surfaces.

When wheelhouse mullions are triangular in shape and wrap around the helm they provide optimum visibility. We design with flush mounted glass to match fit the contour of the structure. The structure and glass are one continuous surface.

Visability:

Mock-ups and models are useful tools to achieve owner acceptance of interior space planning and exterior design. We use anthropometric software to assist in the optimization of wheelhouse design. This allows for the placement of the owner, captain or crew at the helm detailing the pilot's field of vision for optimum eye rotation. It is within this area that all primary operational displays are placed. Grab and safety rail locations and control reach is also addressed. A full size mock-up follows and is made available for acceptance by the owner or owner's representative and reviewed by the trades involved in the construction. The benefits far outweigh the initial cost by reducing change orders and providing clarification to the assembly technicians, master joiners, mechanical systems installers and other interfacing trades. Again, the responsibility lies where it should be, in the hands of the design and engineering team not the shipyard technicians. Scale models of the exterior of the craft can be quickly and accurately fabricated to any size from the same data used to create photo-realistic renderings and made available for customer approval and acceptance.

Esthetics

The glass elements more often than not dominates vessels appearance. The exterior can easily change character from clean and elegant to utility though the use of window treatment and installation

. Function:

Concave inner glass "A" surface benefits include:

⦁ Improved acoustics with lower reflectivity
⦁ Low optical reflectivity

⦁ Improved overall visibility

⦁ Higher strength

⦁ Internal structure as required for a seamless exterior surface

Available Features:

Here are a few of the options available today:

⦁ Switchable privacy from transparent to opaque in less than a second.

⦁ Ballistic resistant

⦁ Radiant heat emitting

⦁ Sound emitting

⦁ Numerous tinting options

⦁ Compound and single element shapes

The concave inner surface of the glass reflects less ambient light and sound than flat vertical glass. The positive effects are definitive when the occupants are enjoying the entertainment system, conversation or a quiet place. The visual experience at sea is significantly enhanced as the interior reflections are at a minimum.

Fabrication

We saw the precursor to today's technology a decade or more ago when overhead pin routers were used to cut flat panels for interiors and some framing systems. Today metal parts and frame kits are routinely made using plasma cutting machines and female molds are machined and assembled for fabrication of parts well over 50m in length. These tools are suitable for multiple units and have all the advantages of hard production type molds in terms of accuracy and dimensional control. The advantages to this type of CNC-cut tooling are numerous, some of these are:

⦁ Modular and off site construction

⦁ Off site fabrication of glass panels

⦁ Class "A" automotive quality part finish [no inherent waviness]

⦁ No added weight from fairing material more stable coating system

⦁ Guaranteed fits on compound and single element window installations

⦁ Minimal waste and added weight where adhesive and chemical bonds are used

⦁ Minimum layout and reduced production time

The responsibility for the success of the product from assembly to aesthetics remains that of the designers and engineers. Much of the above technology has been used to construct our 136 foot [41.4m] and 50m design and our 50m design. One of a kind vessels can now be constructed to exacting standards accomplished through constant control over sourcing, subassembly and fabrication. This high degree of control assures that proper design accuracy is maintained resulting in optimum levels of performance and build quality.

The ultimate goal is make simple and elegant what is complex by nature.

The hallmark of great design solutions seems to be in the elegance simplicity and simplicity of the final product. A forward thinking approach takes full advantage and of the tools available technology to needed to find the best solutions and provide the quality that the customer expects and deserves.